Frequently Asked Questions about Magna Risers stands.
Q? How do I place an order?
You simply contact Rob or Shauna at
magnarisers@gmail
.com and inform us of which model you would like to have us begin assembling for you. Some model Magnepans have as many as three different stand designs available allowing for different styles and looks. Once you select a design the build cycle can begin. Robert will work with you to determine the best Magna Risers stand model that will best suit your needs.
Q? How long from the time I place my order until my new stands are ready to ship?
Initial order point to shipping is typically running between eight to twelve weeks. We manufacture limited edition stands per order and run small batches together over to our commercial powder coater to help keep prices affordable. On occasion scheduling delays can be encountered at our powder coater due to production scheduling or production glitches on rare occasions…therefore the four week build to ship time can sometimes be a bit longer and on occasion… a week or more quicker depending on the particulars of that production cycle. Owners find the wait well worth it and we appreciate your patience.
NOTE: There are issues created by the global pandemic that are not in our control. Extended shipping and the lack of staffing at our suppliers is affecting our production schedule at times; we ask for your patience as we work through this situation.
Q? Why do you offer two or three different designs for some speakers?
Multiple designs are offered basically for two reasons…
To allow owners to have a choice in look, styling and features.
To offer slightly different performance parameters that allow the new stands to better match your system-including variances such as tube or solid state, room acoustics as well as cable and wiring and source choices.
(All Magna Risers have to cross a certain sonic threshold to be offered to fellow owners. Each has to be something we could happily live within our own system. Feel free to contact us if you need help selecting specific models… any of our designs will help your speakers more fully realize the hidden performance abilities your speakers can offer on a well-researched and tested design.)
Q? How do your stands mount?
All Magna Risers use the existing rear mounting holes found on your speakers.
No additional drilling or fitting is needed
- you simply remove the standard factory feet and retrofit your new stands with the provided mounting hardware that comes with your new Magna Risers.
Q? What makes Magna Riser different from other aftermarket stands?
Magna Risers are perhaps the most well researched designs on the market. With nearly 50 different prototypes being constructed and countless hours of comparative listening we have fanatically sought out which combinations of build materials create designs which truly allow your speakers to more fully realize their inherent sonic potential. We found that everything makes a difference sonically so we researched everything from screw types to metal types, metal gauges and metal shapes. We looked at exotic materials including magnesium, zinc, carbon fiber, composites, various types of woods ranging from hardwood to 7% kiln dried. We experimented with heat treating, shot peening and stress relieving metal parts.
In the end we listened to combinations of all the above to create designs that would not only more securely mount your speakers but also help to sonically transform their performance. Several models use 7 different build materials in combination to achieve the desired performance levels. Every set of Magna Risers includes a pair of our proprietary replacement jumpers.
All models are sold on a money back basis- you can return your stands for any reason if you
Contact us within one week of taking delivery notifying us of your intent to return your stands.
You agree to return the stands in their original shipping box in the condition they were shipped to you and agree to pay the return freight.
We may tell you that we make the most well researched and affordably priced high performance stands on the market but in the end it is the individual owner and music lover who is the best judge of how a given addition to their sound system performs in their specific room with their specific components, cables and listening preferences. No other aftermarket stand manufacture offers this type of money back guarantee.
Q? How do I pay for a set of Magna Risers?
A small $25 deposit is required to secure a position in the build cycle for your set of stands. The balance due is payable once your stands are back from our powder coater and the final resonance tuning is being undertaken. Payment is through
PayPal or Apple Pay
. We update you throughout the build process regarding the progress we are making building your stands as we go through the various fabrication steps.
Q.? How do you ship domestically?
Shipments are made via FedEx or through the US Postal Service depending on which is the most cost effective. A signature is required upon delivery to help protect your stands from theft when left at a front door. FedEx allows for redirecting shipments to local FedEx outlets for alternate pickup if that is more convenient. You can also opt to wave the signature requirement through FedEx but we cannot be held responsible for stolen items left on someone's porch.
All shipments are very securely packed and each stand is bubble wrapped. We forward tracking information as soon as it is available and forward photos of your packed stands at the time we share tracking information.
Q? How are international shipments processed?
We ship to most locations around the globe and have Magna Risers on all continents excepting Antarctica. Please ask for a shipping price quote before you place an order. We ship via the US Postal Service to maintain the most cost effective means but alternate shipping methods are available. Two levels of US Postal Services mailing are typically the most affordable. One method allows for full tracking to your doorstep, a lower priced tier provides tracking through US Customs in Chicago and in some cases all the way to the final destinations. International shipping can be remarkably affordable at times depending on your location. We cannot honor our money back offer with international shipments because of added complexities with international interactions.
Q? Do your stands work well on hard flooring or carpeted surfaces?
Magna Risers are designed to work on both hard surfaces and carpet surfaces. Owners report excellent performance on everything from hard wood to stone to plush carpet. Felt pads can be included for those who want to experiment with performance on hard surfaces at no additional cost.
Q? Should I add lead shot or sand or some other filler to your stands to add mass?NO! Magna Risers are intentional designs. Our proprietary resonance tuning is based on specific weights and tuning characteristics
. Adding weight will change the sonic performance of your stands but each set is hand tuned in extensive listening sessions to optimize everything from bass performance, image focus, high frequency extension and even dynamic contrasts- macro and micro. Adding mass would require an entire re-engineering of the entire design and still probably degrade the overall performance.
Q? Do you offer an option to add spikes to your stands?
We have researched the addition of spikes however all of our designs were optimized to not use spikes. A handful of owners requested spikes as an option and after listening to their Magna Risers with spikes unanimously opted not to use spikes. We are not anti-spikes and personally use them under select electronics and even on some subwoofer applications. We can, for a modest fee, tap machine screw thread holes into the bottom of many of our flagship designs so that you can select the spike or cone footer you would like to use. We do not included spike feet as a cost saving method but rather because we believe Magna Risers sound better balanced without their addition- especially in the crucial mid-range.
Q? What is the money back guarantee?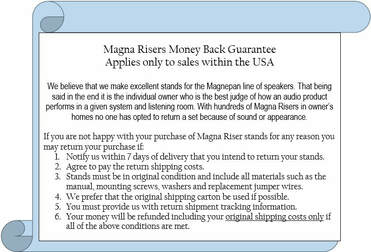 Magna Risers Money Back Guarantee
Applies only to sales within the USA
We believe that we make excellent stands for the Magnepan line of speakers. That being said in the end it is the individual owner who is the best judge of how an audio product performs in a given system and listening room. With hundreds of Magna Risers in owner's homes no one has opted to return a set because of sound or appearance.
If you are not happy with your purchase of Magna Riser stands for any reason you may return your purchase if:

Notify us within 7 days of delivery that you intend to return your stands.
Agree to pay the return shipping costs.
Stands must be in original condition and include all materials such as the manual, mounting screws, washers and replacement jumper wires.
We prefer that the original shipping carton be used if possible.
You must provide us with return shipment tracking information.
Your money will be refunded including your original shipping costs only if all of the above conditions are met.
---