Limited edition, high performance stands for your Magnepan Speakers.
Exceptional Sound for Demanding Listeners
Each set of Magna Risers stands are limited-edition, precision designed and custom crafted to meet a certain sonic threshold.
Magna Risers provide distinct sound improvements, design that pairs physical stability with stylish appearance and most importantly a​ ​true connection between the owner and the music that they love.
​Our designs are the results of dozens of prototypes and hundreds of hours of critical listening.

Welcome Magnepan owners and fans. Let's get your sound up
---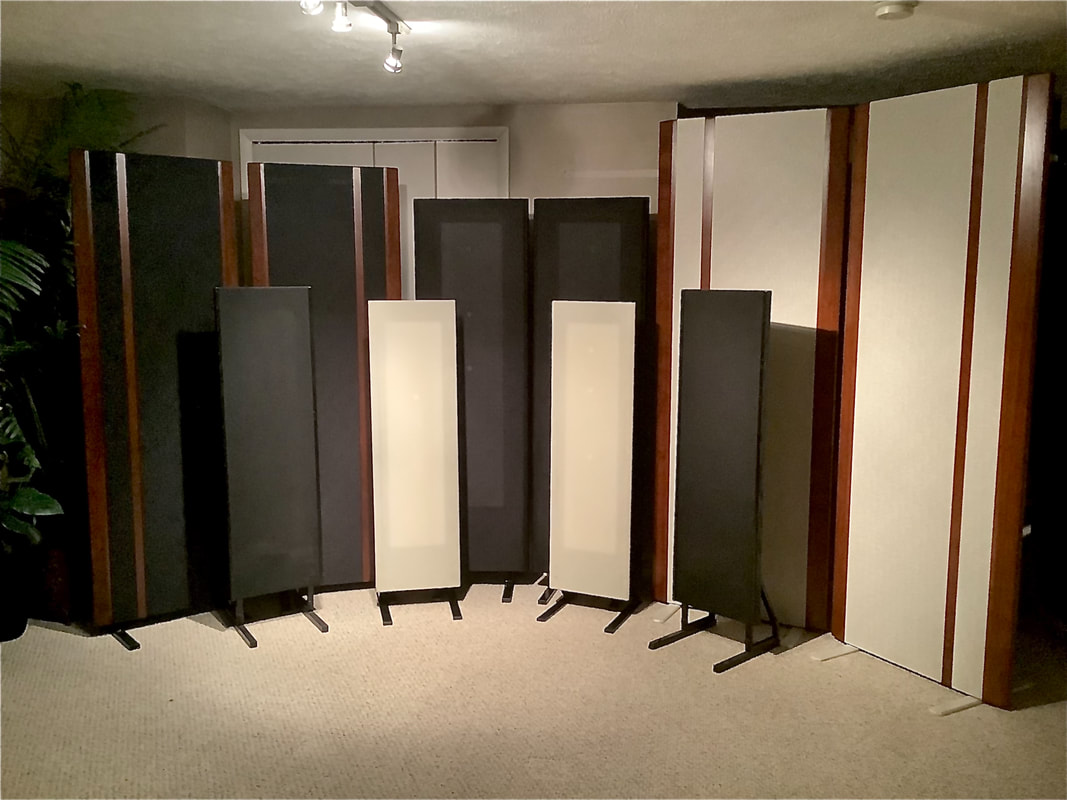 Magna Riser stands are custom designed and precision built for the following Magnepan speakers: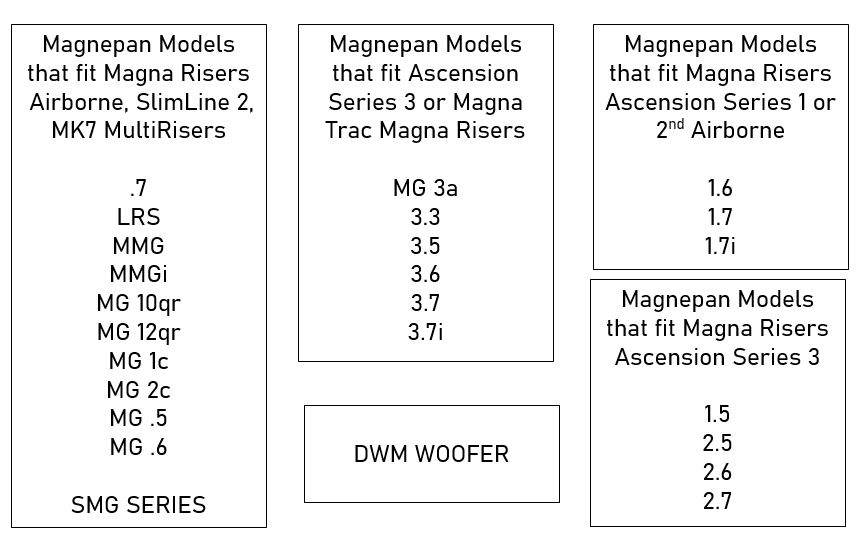 Currently developing stands for the 20 series, the 30.7 and the Tympani series.
| | |
| --- | --- |
| Not familiar with Magnepan speakers, click here to learn more.>>>>>>>>>>>>>>>>>>>> | |
---
Wayne Garcia of The Absolute Sound* reviews
​Magna Risers Ascension 1.7/1.7i in
October 2020 issue #309!
*Article available here.
"With the Magna Risers installed, everything that makes
​Maggies special is taken to a higher plane."
Wayne Garcia's Start Me Up column in The Absolute Sound.
​June 2020 Stereophile magazine Tom Gibbs Equipment Report:
...I upgraded my pair with a set of third-party custom stands from Magnarisers.com: They've made a tremendous difference in the performance level of the LRS."
New review out from Tom Gibbs at Positive Feedback website.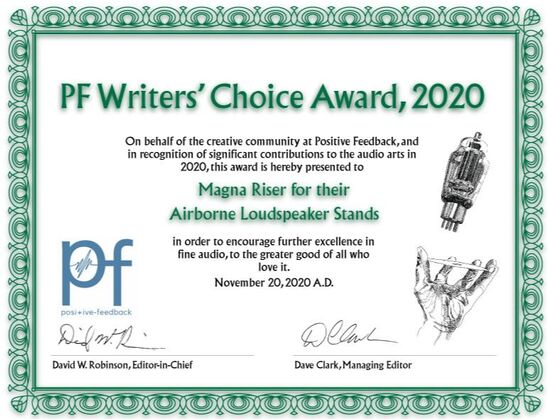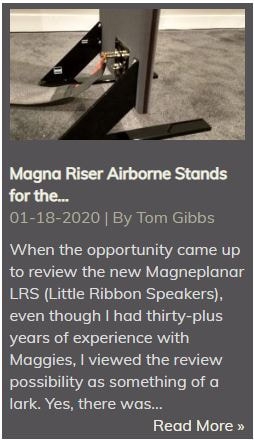 ​
"The Magna Riser Airborne stands are very highly recommended—do yourself a favor, order them now,
you'll be stunned by the improvement!"
-Tom Gibbs audio reviewer at Positive Feedback.
​Read Tom's entire review
here
.
---
---
| | |
| --- | --- |
| | ​Audio and music reviewer John Crossett III reviews Magna Risers for his 1.7i Magnepan Speakers on his Aural Musings Facebook Page. |
"If you love Magneplaner speakers and want to get the most out of them for the least amount of extra money, then the Magna Riser Stands should be on your short list of purchases. They truly do make a very (VERY) noticeable difference in the way the 1.7i's reproduce music. Yes, they really are that good. Robert Raus, I would plan on being very busy keeping current and future Magneplaner owners happy. Oh, and I have absolutely no plans on being the first return. These stay!"
Read John Crossett III's original review and the updated review below.
---
Short Takes - quickie owner comments
" Stands are incredible. Clearer and more focused, female vocals have more air." .7 Multi Riser owner
​
"The stands have transformed my system like a serious upgrade in a source component might for a fraction of the cost"

"The Ascension Stands were an unexpected surprise. I was not expecting to hear that much of a difference in sound" Magnepan MG 3.5 owner

"Let me say 'I WAS PREPARED TO BE UNDERWHELMED.' However I am seriously blown away by the improvements in soundstage, imaging and detail." Multi Riser owner

"I can't believe the improvement-sounds and look" MR-Magna Trac owner

"Installation was easy….the bass response was also improved….clarity is much improved; finer details- possess greater resolution". (.7 owner)

"If anyone wants to upgrade their Magnepan speakers these stands are of the highest quality. Highly recommended."

"I don't want to move the speakers or change anything, they sound so good "(after mounting a pair of Magna Risers on a pair of 1.7i)

"I really love mine. Great addition with impressive WAF and performance."

"Great Product! All...owners should buy them, highly recommended A+++++"

"I have Magna Risers on my .7's and the sound benefits are fantastic...there is no going back for this upgrade."

" Do something nice for your Maggies." Multi Riser owner
​